Google Now On Tap will let you point the camera at texts around you and get related information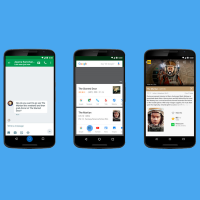 Google Now on Tap isn't quite so amazing as that I/O 2015 made it out to be, but it's being quietly worked on and improved in that sneaky Google-y fashion. Just like that, some Android users have received an early implementation of optical character recognition as part of the voice assistant. We're not sure if that's a global rollout, or it's limited to users of specific versions and geographical regions, but we know that you need to run Android 6.0 to be able to try it yourself.
Regardless, much like the Goggles function inside the Google Translate app, which is made to translate signs in foreign languages, Google Now can recognize texts in photos to perform related searches. OCR works in the Google camera app viewfinder or in the Photos app, letting you just point the smartphone's camera at some text and, with some amount of luck, get Google Now cards with various kinds of data (navigation, wikipedia articles, stuff like that). According to Android Police's report, the feature is rather "hit or miss" at this point. But if gets more seamlessly integrated within Google Now and Android, it could make for a pretty cool addition to the operating system's virtues.
source:
Android Police