Google News & Weather is the first Apple Watch app from Google
1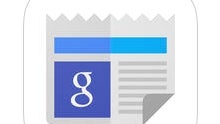 Google has just released its first Apple Watch app, although it might not be the app users have been waiting for. The first iOS app from Google to receive support for the Apple Watch turns out to be Google News & Weather, definitely not the most popular iOS app from Google.
The name actually doesn't turn out to be representative of the app's Apple Watch extension, as there's nothing in it that relates to weather. Google News and Weather allows users to read news headlines on their wrist piece, and offers to do so through a minimalistic user interface. However, the app doesn't offer the actual content of the story, just the headline, which is somewhat limiting.
Aside from swiping between news headlines, the only other thing you can do is to Force Touch a headline to have it added to the reading list in Safari.
It will be interesting to learn if Google will hold out on any of its major services from the Apple Watch in an attempt to promote its very own smartwatch platform, Android Wear. However, given the company's tendency of expanding its reach to as many iOS users as possible, chances are that apps such as Maps, Drive, or Gmail will make their way to the Apple Watch in the future.
What do you guys think, which one of Google's iPhone apps should get Apple Watch compatibility next?
Recommended Stories