Google Glass considered by porn directors for those POV shots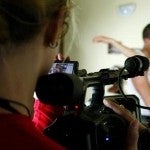 Not that you would need to manufacture a reason to want Google Glass, but Google has started
a series of videos called Google Glass Sessions
that show you some of the reasons that you might want the device. As we told you the other day, the debut Sessions video showed
how the technology becomes useful when you are raising a newborn
and want to share every new, amazing thing that your baby is doing. You can quickly send off video and pictures to your parents, in laws and friends.
plenty of possible roles in the adult entertainment industry
. The device apparently would be a big help when it comes to filming POV (point-of-view) shots for adult movies. Boyer says he's getting one "sooner rather than later".
MiKandi is an Android app that is a portal for adult entertainment (read porn). A spokesman for the site says that
directors are already thinking of shots that could be taken with Google Glass
that traditional video cameras couldn't get. Certainly Google had this in mind as a use for the device when it was nothing more than pen marks on a napkin, right? Besides using Google Glass as a camera for adult flicks, MiKandi sees its usefulness on dates, such as finding an old tweet from your date discussing his/her favorite wine.
Google I/O attendees can pre-order the device for $1,500
although it won't be available
until early 2013
. A model for consumers will be ready by 2014.
source:
XBiz
via
PCMag