Google Glass Explorer Edition up for pre-order only for devs: $1,500, coming early 2013
24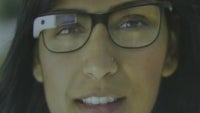 After a jaw-dropping live demo of Project Glass, the biggest alternative news Google just brought is that it's opening
Glass Explorer Edition
to pre-orders to select US-based developers at its I/O event. The Glass Explorer price is set at $1,500 and will ship in early 2013.
The company also gave more substance on Project Glass. First and very importantly, the frame weighs less on the nose than many sunglasses and that's great news as chances are you'd be wearing this a lot once you get it. Google demonstrated a new frame, so that it can actually fit on top of traditional glasses. Glass's main two uses will be communicating through images which you can take literally everywhere and the second is very quick access to information.
But really much about this is up in the air right now. That's why Glass is going to developers - their (possibly yours if you're at I/O) input will help really shape this device.
Are you as excited about this as we are?
source: Google