Google Files Go is now a smarter file manager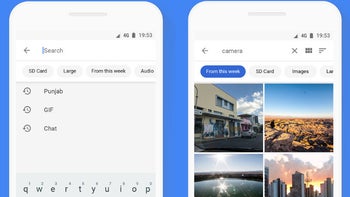 Files Go now has an improved search system that's akin to Google's web search. The app's search feature now includes autocomplete, instant results, search history, and filters. All these work offline, so you can easily find files on your device at any time.
Furthermore, the latest version of Google Files Go allows you to see where duplicate files are located. On previous versions, the app was able to spot duplicate files, letting you delete them to free up space, but without showing their location. To check where a duplicate file is located, you have to long-press on its thumbnail, then tap the "i" icon.
Last but not least, Files Go is now seamlessly integrated with Google Photos, thus it can detect photos and videos that are backed up, allowing you to remove them from your device in order to free up extra space.
Google Files Go is free to download, and you can find it on Google Play via the first source link below. Since its launch, the app's been installed by over 10 million users, and, judging by its reviews, most people seem to really like it.