Get ready to start your engines, the Acer F1 is coming soon
This article contains unofficial information.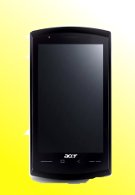 Acer is set to land on the starting line with the F1 where it will go head to head with some of the other premier Windows Mobile smartphones. With its lightning quick 1GHz Qualcomm 8520 processor, we're expecting this to blaze past the starting gate and head to the finish line first. Now we're getting reports that it'll launch and begin shipping on October 6 – the same date Windows Mobile 6.5 goes live globally. Sure it may compete with the likes of the HTC Touch HD thanks to its impressive specs, but we're sure the Acer F1 has been engineered to compete with the other Windows Mobile giants. Priced
around £295 (roughly $487), it's placed somewhere in the mid-range so it won't bite you in the pockets.
Acer F1 Specifications
via
Clove Blog