Analyst says two Samsung Galaxy S10 units will use more accurate fingerprint in display scanner
9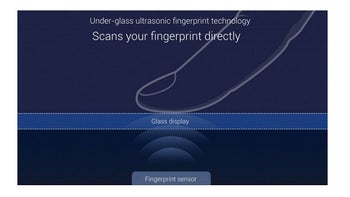 Support for this story comes from none other than Ming-Chi Kuo. The analyst, whose track record on his Samsung forecasts is not quite as good as his calls on Apple devices, seconds the information about an ultrasonic scanner being used on Sammy's 2019 flagship. Kuo says that two out of the three rumored Galaxy S10 models will feature an ultrasonic fingerprint scanner inside the display.
Kuo, who now works for TF International Securities, says in a report to clients that the 6.1-inch and 6.4-inch versions of the Galaxy S10 will be equipped with the ultrasonic fingerprint-in-display feature. The third model, with a 5.8-inch screen, will have a regular ol' fingerprint scanner on the side of the phone. That's a look we've seen from Sony and Motorola, with the latter using a side mounted biometric scanner on the new
Moto Z3 Play
.
The analyst says that Samsung will heavily promote the in-display fingerprint scanner, especially since it will be a feature that Apple won't have on its 2018 iPhone models.
We expect to see the Galaxy S10 unveiled during MWC 2019 in Barcelona
, which will take place from February 25th through February 29th. That should be preceded by the introduction of the foldable Samsung Galaxy X at CES 2019 in Las Vegas next January.