Samsung said to introduce in-screen fingerprint scanner in Galaxy S10 and other phones in 2019
33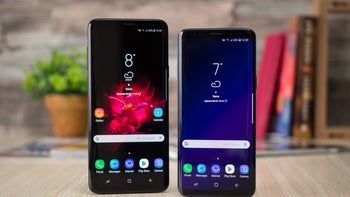 Samsung is planning to embed a futuristic, in-screen fingerprint scanner on its Samsung Galaxy S10, but also on even more affordable phones like the Galaxy A (2019) series. This latest rumor comes from leakster Ice Universe from China, and it once again denies the earlier rumored possibility of the Galaxy Note 9 getting an in-screen fingerprint reader.
Samsung is said to follow in Apple's footsteps and introduce three new phones in early 2019: a 5.8-inch, a 6.1" and a 6.4" model, with only the latter two coming with the new in-screen fingerprint reader. Qualcomm will provide the technology behind this brand new way of unlocking your phone. Qualcomm unveiled its solution in the middle of 2017, a new type of ultrasonic fingerprint scanner, different from the optical scanners that some other companies have developed, but technical challenges have slowed down the roll-out on mainstream phones.
Interestingly, the same report saying that multiple Samsung phones will get an in-display fingerprint reader in 2019, also says that Samsung predicts that this feature will elevate the Galaxy S10 series to popularity and the phone maker expects a whopping 60 million units sold.
Samsung is also planning to differentiate its larger and most expensive phone, the upcoming 6.4-inch version of the Galaxy S10, with a triple rear camera system.
Samsung could have had an optical in-screen fingerprint years ago, but it was "bad experience"
Update:
Samsung mobile chief DJ Koh has also said that the Galaxy S10 will not use an optical fingerprint scanner because the experience with it is bad and had the company wanted to introduce an optical fingerprint scanner, it could have done it two years ago. Clearly, Samsung wants to provide a better in-screen fingerprint experience and that is why the company is taking its time to get it right.