GPS Tuner launches Turn by Turn Navigation for Europe
1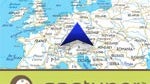 Previously we reported that GPS Tuner launched an offline
Turn by Turn Navigation app for Windows Phone
in the US. It looks as though the European versions have surfaced in the Marketplace.
According to the Marketplace, Turn by Turn Navigation boasts the following features:
Voice-Guided turn by turn Navigation with premium audio quality
Full detailed Navteq Maps
Automatic Map rotation according to your heading
POI and address search
Add POI-s or locations to Favorites
Route calculation based on Time or Distance
Supporting Portrait and Landscape mode
Automatic re-routing if you miss a turn
Speed dependent Volume control
Driving and Walking directions
US and Metric units are supported
Itinerary (turn list for planned routes)
Avoid Highway/Toll roads option
Since Turn by Turn is sold by country, it is a more cost and space effective option when compared to its offline navigation competitor, Navigon, particularly if you do not need all of Europe.
If you're not sure if this app is right for you but your interests have been peaked, GPS Tuner offers a free 24-hour trial of the app for one region so you can check it out and decide for yourself.
source:
WMPowerUser