G1 V2, Samsung Houdini and Motorola Morrison are upcoming T-Mobile Androids?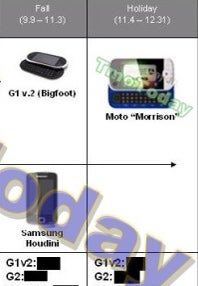 Remember that T-Mobile Android 2009
roadmap
? Well, guess what – a new version has been leaked, with more of those black areas now revealed. As the pieces of the puzzle has begun to fit into their places, we now know that the
G1 V2
, which was a subject of
discussion
several days ago, is indeed codenamed Bigfoot. Sadly, information about it is still missing. On the other hand however, a new Android-powered handset is disclosed, which, surprisingly, is to come from Moto. The
Motorola Morrison
, as you can see, looks a lot like the device that was believed to be the
Motorola G1 V2
. Тhe
Samsung Houdini
, which is also listed here, is obviously a candybar, but we are not sure if it's the i7500 that has already been officially
announced
by Samsung and
approved by the FCC
. What remains to be seen is which manufacturer is to bring out the G1 V2, aka Bigfoot. These three phones are all expected sometime at the end of the year, with the Bigfoot and the Samsung Houdini coming a bit earlier.
source:
TmoToday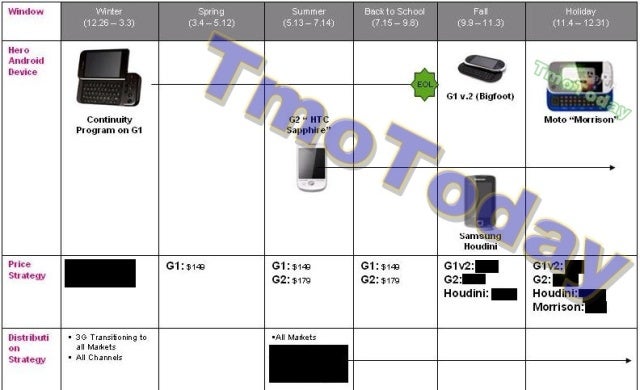 The image reveals the Samsung Houdini, the G1 V2, aka Bigfoot, and the Motorola Morrison