Full Linux distro with mouse & keyboard support running on Nook Color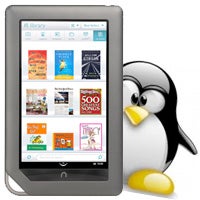 Thomas Polasek set out on a tech quest with one goal in mind – to install a full Linux distro on his Nook Color. In the videos below you can see that Thomas was able to run a full version of Arch Linux on his tablet. Unlike previous ways that this has been attempted, Thomas does not use VNC, and as you can see, the result is that the performance is quite fast.
Thomas has posted a step-by-step guide to achieving this over at his tech blog, Compute for Life, which you can check out in the source link. It is worth noting that Arch is running on top of the Android kennel. Essentially Thomas uses CyanogenMod and a few other Android apps to allow him to run Arch Linux off of the SD card.
He then uses a female-to-female USB adapter and a hub to connect a keyboard and mouse to the tablet. Touch support is not active yet, so the mouse and keyboard aspect is a requirement at this point.
source:
Compute for Life
via
Hack-a-Day