Fuel cell USB charger can charge an iPhone 14 times, runs on butane
3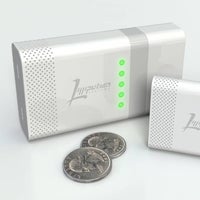 The gizmo that you see below, folks, is a pocket-sized fuel cell that is meant to charge mobile devices over USB. Developed by Lilliputian Systems – a U.S. company specializing in developing portable power products for consumer electronics, the gadget can hold enough juice to fully charge an iPhone between 10 and 14 times. And by juice, we mean butane – this is the fuel that is being utilized to produce electrical energy. The butane itself is contained in cartridges, which are user replaceable, recyclable, and will cost no more than a few bucks.
By using their own technology inside the fuel cell, Lilliputian Systems are able to achieve far better results than what previous fuel cell products could deliver.
"The problem of all the other (previous) devices, which usually used methanol or sodium borohydride, is that when they actually built the product, it was not any better than carrying a lithium ion battery around,"
said Mouli Ramani, who is the company's VP of business development.
Interested in getting one? Well, we are not yet sure how much the fuel cell will cost exactly, but we know where you will be able to find it once it is released on the market. Retailer Brookstone will have the device in stock by the year's end and will be marketing it under its own brand. The cartridges will be available for purchase both online and in Brookstone outlets.