Fruit Ninja turns two, major update adds lots of goodies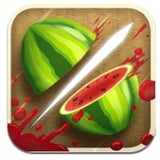 Chances are that if you have a smartphone, you have played Fruit Ninja – one of the most successful and well-known mobile games around. It is a simple, yet addicting little game that today, May 24, celebrates its second birthday.
And to commemorate the occasion, the folks at Halfbrick Studios have
released a major Fruit Ninja update
that adds a whole bunch of new features. There is now a Starfruit currency system, to begin with. You get a thousand of them upon installing the update, and more can be obtained over time by playing the game. Players can use Starfruit to purchase new power-ups from a section called Gatsu's Cart: power-ups like Bomb Deflects, which do exactly what their name suggests, Berry Blasts that explode annihilating whatever is on the screen, and Peachy Time that give extra seconds in Arcade and Zen modes. Items such as fancy blades and new backgrounds can be purchased with the new currency as well.
For now, the update is available only on iOS, but we hope that other platforms will follow suit pretty soon. Those who want to give the new update a try are free to download the game from the link below.