From the ground: What to expect from the Galaxy S7 and LG G5 at MWC 2016
4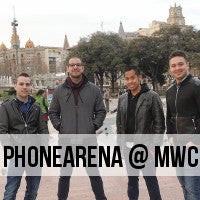 After weeks of preparations, we're finally on the ground in the disappointingly cloudy and overall grumpy Barcelona in Spain. As the veterans among our readers will well know, however, this isn't us just taking a break from our tough lives as tech reporters—it's all about MWC.
MWC, or the Mobile World Congress, officially starts on the 22nd of February this year, but by then the action has kind of started dying out. That's because all of the world's makers converge in Catalonia's capital ahead of the actual opening of the massive expo, and always have their events scheduled for the days leading up to it. Said in internal, PhoneArena speak, the next few days are going to be hectic, and we're being highly conservative here for the benefit of our younger viewers. Let's just say it's back-to-back.
Of course, despite all the hooplah, most eyeballs will be scanning headlines for mentions of Samsung and LG, and their upcoming flagship refreshes in the Galaxy S7 and G5. Deciding to seize the opportunity before the madness ensues, we took our gear into the center of the city to talk The Next Big Thing. For both these cross-town rivals.
Here's what we expect and hope for come Sunday: