FreedomPOP launches in the U.K.; hybrid carrier rumored to be an acquisition target again
6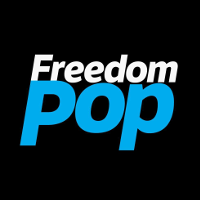 FreedomPOP is closing in on 1 million customers in the U.S., a number that co-founder and COO Steven Sesar predicts will be reached during the third quarter. It seems like it was just yesterday
when we first told you about the MVNO
. In the U.S., the hybrid carrier uses a combination of Wi-Fi and cellular networks to offer free and low-priced service in the U.S. Recently, the company announced that it will sell the still serviceable
Samsung Galaxy S III
for $99.99 and
give buyers a free month of unlimited talk, text and data
. You can continue to receive the same service for $19.99 a month, or get 200 minutes of voice, 500 texts and 500MB of data each month for free.
Now the hybrid carrier is launching overseas for the first time. In the U.K., FreedomPOP has opened its doors as a "SIM only" provider. That means it doesn't sell handsets, it only provides the SIM cards that connect customers' handsets to its MVNO network. In the region, customers can receive 200 voice minutes, 200 texts and 200MB of data for free. Paid plans includes free international calling to 60 countries, and a roll over data feature. In the U.K., FreedomPOP is partnering with Three. Later this year, it will release a free roaming data service available as a SIM for use in the U.K., Spain and France. Users will start with 100MB of free high-speed data each month. The service, called Jetsetter, will eventually expand to more than 20 countries.
Back in the U.S., FreedomPOP is thriving because the amount of money it spends to acquire each new customer is under $5 compared to the $380 per customer spent by traditional carriers. With everything done online, FreedomPOP doesn't have to spend on brick and mortar retail space. And the company is making money even though 51% of its customers don't pay them a penny.
FreedomPOP is drawing interest from larger companies. Last year, there were
rumors that Sprint would buy the carrier for as much as $450 million
. COO Sesar says that the company has recently drawn interest from more than one company. But the executive makes it sound as though FreedomPOP wants to go it alone by mentioning the possibility it will turn to venture capitalists to raise money. It already has raised nearly $20 million from investors like Mangrove Capital, DCM and Niklas Zennstrom.
source:
TechCrunch