Fossil Sport smartwatch gets new colors and a massive price cut
1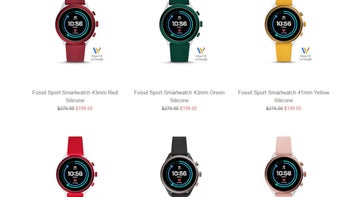 Fossil is one of the not so many companies that is betting on Google's Wear OS.
Sport
is one of Fossil's smartwatches powered by Wear OS, which packs a decent hardware configuration and decent software options.
Starting this week, Fossil Sport smartwatch is available in new colors,
Droid-life
has learned. The wearable device comes in two size variations – 41mm and 43mm, but you will now be able to choose from a lot more colors. Bright red, dark green, yellow and a couple of blue variations are now up for grabs via Fossil's website.
If you favor the previous generation of Fossil smartwatches
over the Gen 5
, you'll be happy to know the Fossil Sport is getting a massive $75 discount. This means that the smartwatch is now available for just $200, although this isn't a permanent price cut.
It's a great deal if you're looking for an average smartwatch that looks stylish. Of course, for more features, you should be looking at a Samsung or Apple wearable device, but the best thing about the wearables market is that there are enough alternatives for every taste.