Former Sony Ericsson chief Nordberg to leave BlackBerry's board
23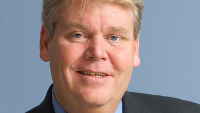 Bert Nordberg is leaving BlackBerry's board. The former Swedish telecommunication executive had only been appointed to the board in February of 2013, and was quickly assigned to the committee overseeing the sale of BlackBerry. As we now know,
a deal from Fairfax Financial fell apart
and BlackBerry ended up with some money in the till, and a new CEO.
In August, Nordberg said that parts of BlackBerry should be sold off, and that the firm could survive as a "niche" player. Nordberg came to BlackBerry with the experience of being the CEO of Sony Ericsson where he 86'd all of the low-priced phones that the partnership was selling, to concentrate on Android flavored models. Under his watch, the Sony Ericsson Xperia line shifted from Windows Mobile to Android and a slow-starting but promising panels UI was scrapped. Nordberg was a member of the team at Ericsson that helped arrange for the divorce of the two companies when
Sony bought out Ericsson in 2011
.
According to a filing that BlackBerry made with the SEC, the company does not plan on replacing Nordberg on the board, which will reduce the number of BlackBerry's board members to six.
source:
WSJ