Foody is a no-frills diet and food-related symptom tracker that works fast and without an Internet connection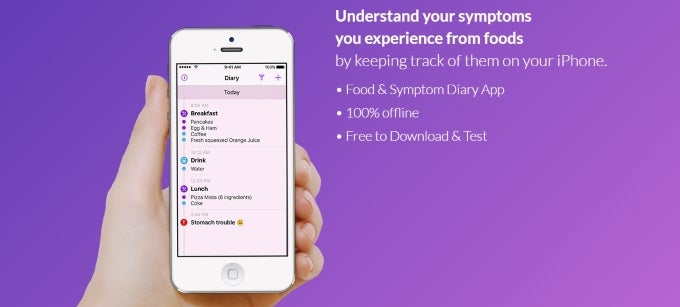 Nutrition is an important concept to be aware of. As the age-old saying goes, you are what you eat. If you struggle to put together a decent diet that keeps you full and boosts your well-being, you should let an app like Foody lend you a helping hand. Foody serves as a personal diary to keep track of what you eat and any symptoms that may arise from it. By analyzing this data via the app's convenient interface, you'll be better-equipped for understanding your health.
The app has no sign-ups or cloud-based features, and works fully offline.
The app is very user-friendly and easy to use, promoting simplicity instead of complex sheets and graphs. Your main task while using it is recording your food and symptoms. Start by marking your meals as breakfast, lunch, dinner, snacks, or drinks – complete with notes and the ingredients they contain. Likewise, recording symptoms works by entering them under concise titles and using the intensity tracker to trace their development over time. Foody lays out all this information onto a visually pleasant timeline and filters it by period, date range, meal type, and search term.
In line with its lightweight design, Foody is an install-and-go app that's ready to roll right away. There's no sign-up procedure or welcome screen, just an interface ready to catalog what you eat. All data is stored on the device, as no cloud infrastructure is involved here at all. Internet connection isn't required, either, which means Foody is fully functional offline. It also supports 3D Touch for quick actions, such as adding meals and symptoms. Foody also sends notifications for missing meals and lets one export their diary to PDF, sharing it with friends, doctors, and nutritionists.
The app is iOS-only and available for free download.
ALSO READ