First dashboard iPad mini appears in Tampa just hours after the tablet's launch
31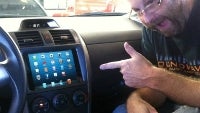 Putting aftermarket stuff in the car dashboard is a favorite American pastime, and the
iPad mini
got the treatment just hours after its launch today. Soundwaves of Tampa installed Apple's smaller tablet in a 2012 Toyota Corolla immediately to use it as the car's infotainment system.
The iPad mini is used to stream Pandora and iHeartRadio through the Corolla's sound system, probably getting its Internet fix via a Mi-Fi unit somewhere in the car, as the LTE version is still not out.
We've seen some crazy iPad-laden rides before, but this one takes the cake in speed of installment just hours after the iPad mini went on sale. Not bad for $329, and we are sure more such setups will be appearing in no time.