First Galaxy S6 edge benchmarks show peak performance in AnTuTu and outrageous memory speeds!
96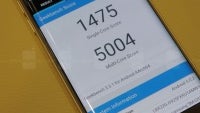 Hello, friends! Are you having fun reading our comparisons of the Samsung Galaxy S6 and S6 edge against their Android and iOS rivals? We're sure having a blast throwing these scorching hot devices against each other.
But, as the mighty Monty Python loves to say, it's time for something completely different! We got to run some benchmarks on Samsung's latest hardware, the Galaxy S6 edge, and we're ready to report some seriously impressive results!
As you surely know at this point, the Galaxy S6 and S6 edge run on the same hardware platform, so these results should be valid for both devices. However, these are pre-release units we're handling here, so don't take the results as final - but merely as very promising!
Recommended Stories