Facebook introduces new Group Privacy settings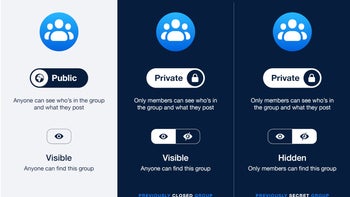 In an attempt to make Groups easier to understand, Facebook
announced
the launch of a new simplified privacy model for the feature, public and private. The new Groups Privacy settings include two clear options, which should make the privacy model much more intuitive.
For example, public groups allow anyone to see who's in the group and everything that's shared there. However, in private groups, only members can see who else is in the group and what they've posted.
Also, with the new settings, admins will be able to clearly choose whether or not the group can be found in search and other places. It's also worth mentioning that by default, a group that was formerly "secret" will now be "private" and "hidden." On the other hand, groups that are "public" will remain "public" and "visible."
All the new options are now available for all admins in their Group Settings, but keep in mind that there are restrictions to if and when an admin can change the privacy setting of a group. However, all the updates made by an admin to the group's privacy setting will be highlighted for all group members via notifications.