Facebook takes on Snapchat in "disposable chat" with Poke for iPhone
1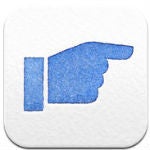 If you thought the days of being "poked" by Facebook friends were over, you thought wrong, because Facebook has decided to bring back the neglected term for its new iPhone app. Earlier this week, we heard that
the app was in the works
, but we didn't expect it this fast, but word has it that
the app was built in just 12 days
. The app is called Poke, and is a "disposable chat" app that is looking to take on the reigning leader of that market: Snapchat.
Like Snapchat, Poke does try to keep users from being able to take a screenshot by requiring that you keep your finger on the screen while viewing a message, but it is still possible to take a screenshot if you're dexterous enough. Snapchat will alert the person who sent you the message if you try to take a screenshot, and that seems like a much better way to deal with the issue.
While Poke will only let you send messages with your Facebook friends, your friends will be required to use Poke to see the message. And, right now, the app is iOS only (and only optimized for the iPhone, not iPad). No word on when the app will make it to Android.
If you want to give Poke a try, it's available for free in the
iTunes App Store
.