Facebook said to be working on "disposable chat" (aka sexting) app
24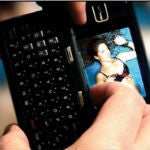 With the backlash to privacy concerns and your communication on the Internet being essentially immortal, a new trend has been emerging in the realm of "disposable chat". So, rather than something like Gmail or Facebook, which is intended to keep your communication forever, or Twitter, where private conversation becomes public. There is a move to communication that "self-destructs" and it looks like Facebook wants in on that market. Of course, a major use for that market isn't just regular off-the-record chat, but rather sexting.
Currently, the king of the "disposable chat" market is an app called Snapchat, where users can share photos or text with friends, but the person receiving the message gets no more than ten seconds to view the message before it "self-destructs" and is gone forever. Snapchat has a community that sends about 50 million photos per day, and has a reputation for being used as a sexting tool (although we're a bit curious what can be accomplished in no more than 10 seconds...) And, as a reader points out, even if you try to take a screenshot of the Snapchat message, that screenshot will automatically delete, and the person you're communicating with will be warned that you tried to take that screenshot.
Facebook reportedly wants in on the "disposable chat" market, but it's unclear as yet how much users would trust a Facebook app for this purpose. Facebook is obviously trying to change its image a bit, from the company that shares everything publicly, to a company that gives you control. But, we're not sure how successful the move will be.