Facebook Home update coming today, including app dock and contacts dash
7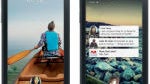 Facebook Home is just an hour away from getting its first update since it launched just about one month ago, and the company has given TechCrunch a preview of what users can expect with the new version of the app, including an app dock to make it easier to get at the apps you want, and a contacts dash for easier access to the people you want to communicate with.
According to Facebook the app has been doing pretty well (if you ignore the user reviews). The app has generated 1 million downloads, and has led to users spending 25% more time with Facebook. With that in mind, Facebook will be adding a new walkthrough when users first install the app with instructions on how everything works. There will also be a new Dock for your favorite apps that will live at the bottom of the Home app tray.
Lastly, there will be a new Dash Bar that will replace the Messenger shortcut. So, instead of swiping left to launch Facebook Messenger, swiping left will automatically create a Chat Head and bring up your Buddy List so you can more quickly start up a conversation.
Facebook says that all of the changes are based on user feedback, but there's no word on if the update will expand the list of compatible devices. The update is expected to go live in the Google Play Store at 3PM PST (6PM EST).