Evernote overhauls Android UI, brings ICS Holo theme too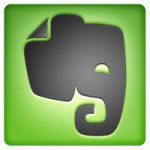 Evernote is basically one of the essential apps that is recommended for smartphone users no matter what platform they happen to be using, but the Android version of Evernote just got quite a big update with an entirely new UI. The app has been redesigned to not only make navigation, and note creation easier, but it is taking advantage of new ICS tools as well.
The first thing you'll notice is a brand new homescreen with big buttons to easily create a new note or get into your saved notes. Once in your saved notes list, you'll notice that the list has been redesigned to make finding what you want much easier. User notebooks have been brought together with shared notebooks, because, well, everything has to be more social these days, right? And, taking advantage of ICS, Evernote is now using the Action Bar to make sure the options you need are available any time.
The app also jumps into the swiping action by allowing users to jump back to the homescreen at any time by swiping to the right, as well as swiping to change the view from Notebook to Tags to Place.
It's a pretty solid update no matter what version of Android you've got, and as always, it's free in the
Google Play Store
.