Evernote 2.0 brings Mango features
2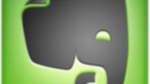 Evernote 2.0 has just dropped for Windows Phone and its packing that Mango goodness that we are expecting from all app updates these days. Evernote still has all of the sweet options for notes - text, audio, pictures or links - but now, it also has all the Mango features for all sorts of new Live Tiles and more.
Obviously, the big update with Evernote is the various items that are now able to be pinned as Tiles. With Evernote 2.0, you'll be able to pin notes, tags, map locations, and searches to the home screen, but even better is an option to pin a template tile. A template tile will allow you to have a blank note ready to go with whatever tags, title, notebook or even content that you may use a lot.
The update also brings background syncing, so if you change content of a pinned note while on the web or in the desktop app, it will sync the changes to your phone and even display a counter on the tile. The video below has a breakdown of all the new features that you can have fun with (assuming you've gotten your Mango update.)
Evernote 2.0 is available now for free in the Windows Phone
Zune Marketplace
.