Everdisplay reveals the world's first 4K AMOLED display (6 inches, 734 PPI)
46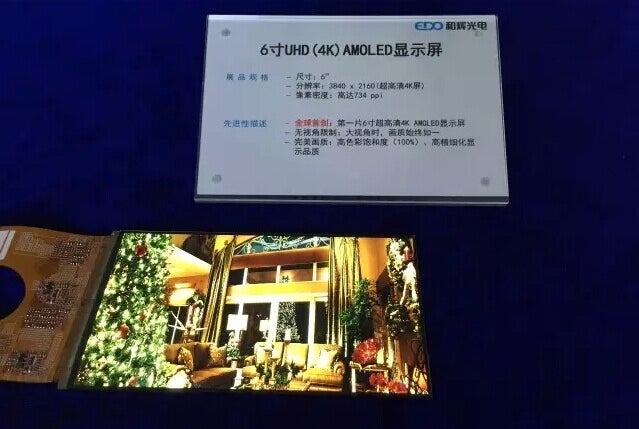 Getting tired of the PPI race? If that's the case, you might want to skip to another article, as this one is about the official announcement of the world's first 6-inch AMOLED panel with a 4K (also called UHD) resolution.
Everdisplay, a China-based AMOLED panel manufacturer that is also known as Hehui Optoelectronics, has just announced the world's first 4K AMOLED panel, and no, it's not designed to be used on 4K TV sets. Measuring 6 inches across the diagonal, the display boasts a PPI density of 734, well above the current record for market-ready smartphone displays, held by the
Samsung Galaxy S6
with its 5.1-inch QHD AMOLED panel with a PPI of 577.
Everdisplay unveiled a working prototype earlier today in China, but the manufacturer did not specify when the display might actually enter mass-production. The display manufacturer did not make any mention of this display being aimed at the smartphone/phablet market. Instead, the company says that such high-resolution AMOLED panels will find their utility in the virtual reality products of tomorrow. The reasoning is that VR displays usually sit much closer to the eye compared to the regular viewing distance of a smartphone display.
Although a PPI density of 734 is definitely high-definition by any modern standard, bear in mind that this doesn't break any records as far as prototype displays go. Earlier this year, Sharp announced a
5.5-inch IGZO display with a 4K resolution
and a PPI of 806. Furthermore, Samsung recently announced plans to manufacture a
display with a mind-boggling 11K resolution
, one that would feature the unthinkable PPI of 2250.