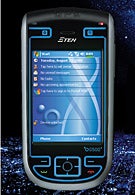 The G500+ is an upgrade to the G500 as the flash memory is expanded from 128 to 256 MB, and also Direct Push technology functions are added. It also features and updated FM radio with advanced RDS functionality support. Eten has also included several software utilities to improve GPS functionality, including Satellite Data Update that can shorten the positioning time of GPS signals (currently a common problem with GPS) and a Location SMS application allowing sending a user's GPS coordinates to any SMS enabled phone at the touch of a button. Other important features and specs of the G500+ include:
Quad-band GSM/GPRS support.

Samsung 400MHz CPU.
Bluetooth 2.0 support.
Windows Mobile 5.0 operating system.


Too bad the new G500+ does not upgrade the GPRS data to EDGE or UMTS, which was also the case with M600 and M600+.

An in depth review of the G500 can be viewed from here.

Source: Eten