ED05 update for the Samsung Fascinate is now available & patches up some bugs
3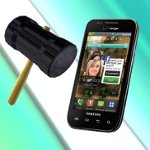 More than two weeks ago, we first got wind of an
upcoming minor software update for the Samsung Fascinate
that's expected to iron out some of the handset's nagging kinks – like its
incoming call connectivity
. Luckily, the update has finally arrived and is being rolled out to handsets as we speak.
ED05 software update
for the Fascinate also manages to smooth things out with
SMS problems
. Specifically, after sending an SMS message to multiple contacts, single-recipient SMS messages will be sent correctly afterwards. Moreover, SMS message reply is sent to the correct recipient as well. And finally, the update also comes preloaded with Google Books – so if you haven't installed it yet, you'll find it on there once the update is installed.
Getting close to a year into its life, let's hope that this one solves all the issues surrounding the aging handset – if not, well, you can always think about
upgrading to its successor once it's officially announced
.
source:
Verizon
via
Android Central