Dutch police officers to carry the Samsung Galaxy S5 while Dubai officers strap on Google Glass
23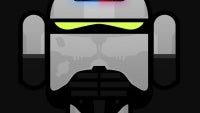 Dutch website Android Planet got the word that the country's national police has ordered an alleged 35 000 Samsung Galaxy S5 units to replace its officers' old BlackBerries. The fingerprint scanner inside Samsung's flagship phone will help the police take and check fingerprints, while its other capabilities will help with scanning documents and questioning. The phone's dust and water resistance and the built-in Samsung KNOX security suite are a welcome addition to any device that's meant to be worn on duty. Additionally, the Dutch police will introduce its own app for fining individuals and identifying them by fingerprints.
In somewhat related news, the Dubai police force will start using Google Glass to fine motorists on the spot and identify wanted vehicles. It is said that Google's shades are being trialed by the Dubai Police Smart Services Department as we speak. Together with their Lamborgini cruisers, the addition of Glass, which costs $1500 apiece, will officially make Dubai's police the highest-rolling law enforcement in the world.
So, there you have it - smart-watches, smart-glasses,
smart-earphones
,
smart-clothes
, smart-appliances... and now, smart-cops. What can we say, welcome to the connected age.
via
Android Planet
,
Connectedly