OMsignal wants to make your workout t-shirt connected too
7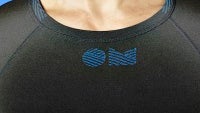 OMsignal is a startup that wants to change your favorite workout t-shirt to a smartphone-connected one.
"Clothing is the only type of wearable you've been wearing your whole life. Clothing also allows us to access biological functions where they actually happen."
- explains OMsignal CEO Stéphane Marceau, and that sounds pretty reasonable.
OMsignal's shirts are made to the standard of high quality sport garments. They feature a band around the chest that's woven with conductive thread. It transfers electrical signals to a gadget that somewhat resembles the anti-shoplifting plastics attached to clothes in the mall. This little black box snaps onto the t-shirt and feeds your smartphone bio-metric data from its accelerometer, gyro-meter, and magnetometer over Bluetooth. It tracks the user's heart rate along with the way the chest expands and contracts with breathing. This way, OMsignal is able to measure estimated stress level, breathing regularity, and other data that's off-limits to the current crop of fitness trackers.
The last piece of the puzzle is an app to show you all this data. It can act as a personal coach, estimating whether your heart rate is sufficient for losing weight or you are moving too fast, for example.
Currently, OMsignal offers four types of men's shirts in six colors, while a ladies' collection is underway. The prices are steep, though - a shirt and a fitness-tracking black box will run you $200 during May (then the price goes to $240), while additional shirts cost $100 to $140. Shipping will start in the summer.