LG's Lifeband Touch and Heart Rate Earphones wearables release date in the US is May 18th
10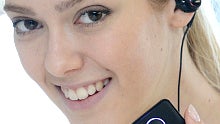 Back at the CES expo in January, LG announced its first foray into fitness wearables - the
Lifeband Touch
wrist-band, and the Heart Rate Earphones. They connect wirelessly to each other, and to Android & iOS smartphones running wellness apps, such as LG's own LG Fitness, or MyFitnessPal, Runkeeper, and MapMyFitness.
Well, these two will be available in the US as soon as this Sunday, May 18th, says LG, though pricing is still to follow. The Lifeband Touch, as indicated by its name, boasts a 0.9" touch OLED display to show time, biometric data, notifications, and music controls for your smartphone. The built-in accelerometer and altimeter measure distance, speed, number of steps taken, calories consumed and other stats. The screen automatically turns on and off when you rotate your wrist, thanks to an inbuilt motion sensing algorithm. According to LG, the wrist-band is "lightweight and simple to use," and there are three sizes available - M, L, and XL - with slightly different weights and band lengths.
The LG Heart Rate Earphones wield a different kind of magic. They feature PerformTek sensor technology which measures the blood flow into the external part of your ear. From this, the earphones derive your heart rate and maximal oxygen consumption. LG has employed a "flexible ear piece design" to make the buds comfortable, and a clip-on Bluetooth "medallion" handles data between the earphones, your smartphone, and Lifeband Touch. LG doesn't specify the play time with the supplied 200 mAh battery of the Heart Rate Earphones, but for the Lifeband Touch it cites up to five days between charges out of the 90 mAh battery, which is pretty good, and can be a veritable alternative to the
current smartwatch crop
.
LG ENTERS FITNESS WEARABLE MARKET WITH LIFEBAND TOUCH AND HEART RATE EARPHONES

LG Wearable Devices Deliver Superior Performance and Comfort with Looks to Match

SEOUL, May 13, 2014 ― With an eye on showing consumers that accuracy and comfort should not have to be sacrificed for good looks, LG Electronics (LG) will introduce its first fitness wearable devices to consumers starting this month. LG Lifeband Touch and Heart Rate Earphones offer practical features and the most accurate data collection and analysis currently available, making it easier for wearers to take control of their health. Both devices can be wirelessly connected to most of today's popular smartphones to create a full-featured wearable ecosystem.
LG Lifeband Touch features a bright, full-touch OLED display that provides easy, real-time access to a full range of fitness data so wearers can track their progress and adjust their workout plans accordingly. Lightweight and simple to use, a unique motion-sensing algorithm automatically turns on the display when wearers rotate their wrists. LG Lifeband Touch features two sensors ― a triple-axis accelerometer and an altimeter ― that work together to provide the most accurate data in real time. What's more, LG Lifeband Touch enables users to check incoming calls and messages and control their music playlists on their smartphones, keeping wearers connected while delivering an uninterrupted workout experience.
LG Lifeband Touch is compatible with both Android and iOS operating systems and is designed to work with the LG Fitness app as well as popular fitness apps such as MyFitnessPal, Runkeeper and MapMyFitness. The long-lasting -90mAh battery is good for five days of use between charges. And unlike other wearable fitness devices that are designed to be "one size fits all," LG Lifeband Touch is available in three different sizes for the most comfortable fit possible.
LG's Heart Rate Earphones are designed to provide accurate heart rate data by measuring blood flow signals in the ear via PerformTek sensor technology while also delivering excellent sound. Because of the unique physiology of the ear, wearers can get more accurate health and fitness metrics with LG's Heart Rate Earphones than with other devices, especially when engaged in physical activity. LG Heart Rate Earphones can be used alone or with LG Lifeband Touch. A separate clip-on medallion contains Bluetooth connectivity which sends data to the Lifeband Touch or a compatible smartphone. When using the LG Fitness App, users can also receive audible status updates informing them of their heart rate and VO2 max (maximal oxygen consumption) levels in real time.
Following its launch in the United States on May 18, LG Lifeband Touch will be rolled out in key markets in Asia and Europe in the days and weeks ahead. Additional details of LG's new wearable devices will be announced locally when they become available.
Lifeband Touch Key Specifications:
? Display: 0.9-inch OLED (128 x 32)
? Battery: 90mAh
? Connectivity: Bluetooth 4.0
? Band Length: 196mm (XL) / 181mm (L) / 166mm (M)
? Weight: 53.1g(XL) / 50.1g(L) / 49.9g(M)
Heart Rate Earphones Key Specifications:
? Battery: 200mAh
? Connectivity: Bluetooth 3.0
? Size: 46 x 33 x 17mm
? Weight: 26.7g (Earphones) / 18g (Medallion)
? Others: Hands Free Call, Voice Guide