First dual-SIM iPhone teased by carrier: 'You're late, I've been waiting.'
16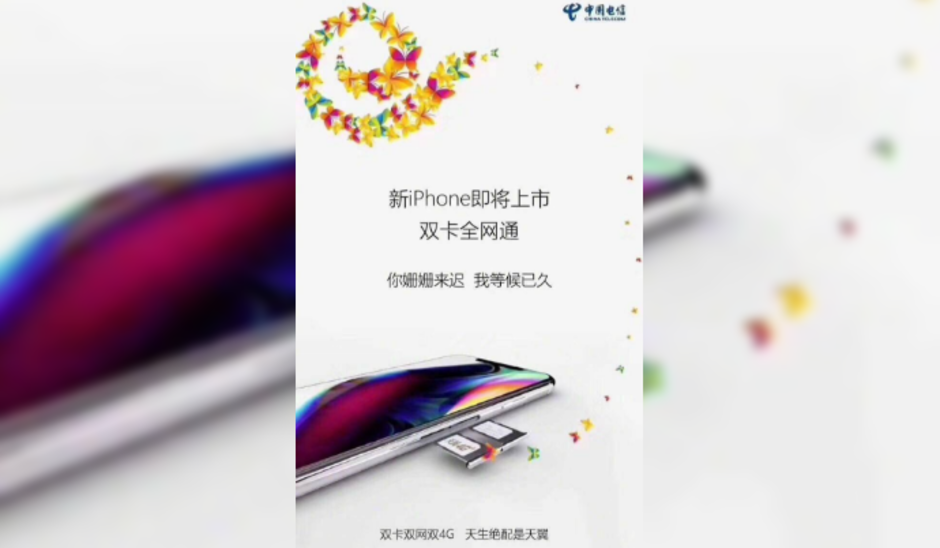 'The new iPhone is on the market. Double card, full network. You're late, I've been waiting. Dual card, dual network, dual 4G'
We've been hearing about and clamoring for an iPhone that can support two carrier networks at once, and a recent dive into the iOS beta added more water in that rumor mill. There were three new references in iOS 12 that gravitate towards the idea of a dual-SIM iPhone - an Apple first. Tucked in the code strings were the phrases "second SIM status," "second SIM tray status," or "dual sim device," all of which point to one logical conclusion.
Yes, Apple will finally announce a dual SIM handset, ten years in the making, for the joy of Asia, Europe, and other places where using two SIM cards at once is a favorite pastime. Unfortunately, such a model may be restricted to those regions, too, as we heard it might be China-specific. The largest local carrier, China Telecom, does nothing to dissuade these exclusivity rumors, as it just outed the teaser you see above, with what looks like an iPhone with a dual SIM tray. The machine translation of the image says "
The new iPhone is on the market. Double card, full network. You're late, I've been waiting. Dual card, dual network, dual 4G
."
Long story short, yes, Apple is gearing up to unleash its first phone that can support two carriers at once, and both of the cards can be connected to their 4G networks at the same time, sweet! It is not clear which of the iPhone 2018 trio will be outfitted with a dual SIM tray, though. The rumored "affordable" 6.1" iPhone was the first candidate according to some rumors, but subsequent tips claimed that it will be the largest iPhone ever - the upcoming 6.4"
X Plus
- that will be the first iPhone out of the door with a dual SIM version. There could be truth to both of these rumors, because the
LCD model is likely to be delayed
, and its
dual-SIM model is said to be exclusive for China
.
This way, Apple shoots plenty of birds with one stone - it may gun for early adopter sales of the high-end models first, especially in Asia where dual SIM phones are a big deal, before it launches the "budget" iPhone 2018 a month or two later, plus it will make the X Plus even more enticing on the high end where it is supposed to be priced starting at $999. We'll see how will this strategy materialize if it pans out, but at least Apple may finally have an iPhone for those who have been carrying two phones when they have an iPhone, as they can't use two SIM cards at once on it.