Chrome 69 rolling out to Android and iOS devices, adds brand new look, notch support
15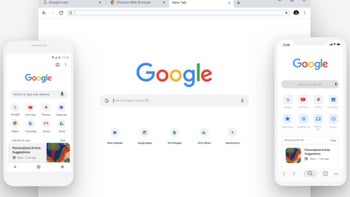 Coincidence or not, Google is celebrating Chrome's 10th anniversary with a new release of the browser, which brings major new features. Chrome 69 was launched earlier this week on Windows, Mac, and Linux, and is now slowly making its way to Android and iOS devices.
If you haven't yet received the updated version of Chrome, here are some of the improvements you'll get. First off, Chrome 69 brings the
Google Material Theme
, a new look that comes in line with the search giant's design language. It's minimal, fresh and as clean as possible to make it easier to navigate through menus.
Our newest update includes a refreshed design that lets you navigate the web faster, and a completely revamped password manager and updated autofill so you can get things done more easily and securely. And Chrome's search box (the "Omnibox") gives you more information directly as you type, saving you even more time.
Furthermore, Chrome 69 adds support for
display cutouts
, a most necessary feature given the new trend that made phones with notched displays popular among many consumers. Developers will now be able to tell the browser to expand into the display cutout area when someone visits their websites.
Google also mentioned that this new version of Chrome enables secure and easy mobile payments via third-party payment apps. Also, password generation now works on more websites.