Disney+ will offer 4K video, four simultaneous streams and more for only $6.99 per month
11
Disney+, the beloved entertainment company's new streaming service, will launch on November 12th priced at $6.99 per month. During the D23 Expo held in Anaheim,
the company revealed some additional information
about the Netflix competitor. For example, instead of dropping a whole season of an original show at one time, Disney will release them on a weekly basis. And the House of Mouse will allow Disney+ subscribers to stream content to as many as four devices at the same time and will not charge extra for 4K video streams. Subscribers will also be able to create up to seven different user profiles.
Netflix, on the other hand, is known for releasing entire seasons of new shows at one time, encouraging the binge-watching crowd to watch a complete season of a show in one sitting. While it allows up to five profiles to be created, Netflix subscribers must pay more ($15.99 per month) for 4K resolution and to stream on four devices simultaneously. This is a strange position for Disney to be in, as many fans of its theme parks will attest to (a one-day ticket to one park is a princely $109). But there is plenty of competition for your subscription dollars and Disney+ needs to bring in some revenue before it can even think about matching Netflix in terms of cost.
"With less than three months until launch, Disney+ will soon entertain and inspire audiences of all ages for generations to come, and we're excited to preview some of the amazing original content being created for the service exclusively from our world-class brands today at the D23 Expo. Storytelling is the cornerstone of The Walt Disney Company and we're thrilled to unveil a new slate of original shows from the Star Wars and Marvel cinematic universes, along with popular television franchises set to return with all-new series streaming only on Disney+."-Kevin Mayer, chairman, Direct-to-Consumer & International segment, Disney
Hilary Duff is returning to play Lizzie McGuire in a brand new series based on the character

Disney+ will be a mixture of classic Disney movies and animation (don't forget that Disney's purchase of 20th Century Fox means that the service will include every episode of The Simpsons) and original shows. The company has access to quite a few popular titles that will be used to create new adventures of popular characters. As pointed out earlier this year in a report from Loup Ventures, how many times can someone watch The Lion King? More likely to drive growth for Disney+ will be new episodes using the same characters from popular Disney classic cartoon and live films.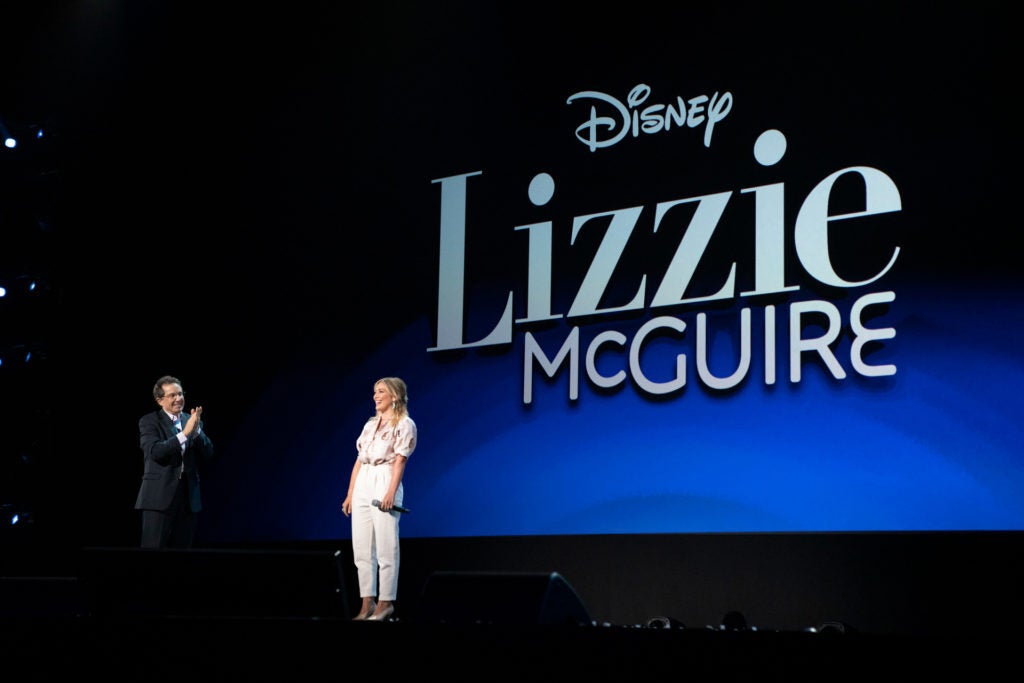 Hilary Duff returns to the role that made her famous
Disney announced yesterday that new originals are in development for Disney+ including:
The Mandalorian-the first live-action episodic series based on Star Wars which will follow "the travails of a lone gunfighter in the outer reaches of the galaxy far from the authority of the New Republic."
High School Musical: The Musical: The Series-based on the popular High School Musical movies, this show "follows a group of students as they countdown to opening night of their school's first-ever production of High School Musical."
Lady and the Tramp-A "retelling" of the 1955 animated cartoon, but with real animal stars and CGI.
Noelle-A holiday-themed movie starring Anna Kendrick and Billy Eichner.
Encore!-This series brings former high-school musical castmates together to recreate shows they performed many years ago.
The World According to Jeff Goldblum-Enough said.
Other shows announced include the return of Hilary Duff as Lizzie McGuire in a new series, Muppets Now which will reunite Kermit and Miss Piggy, and another live-action Star Wars show. The latter will focus on Obi-Wan Kenobi and will star Ewan McGregor.