Dell says goodbye to the Streak 5 and that "it's been a great ride"
4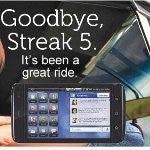 At the end of the line for all cell phones, there is this thing called cell phone heaven where once flavorful and exciting handsets exit to live out the rest of their days. And rightfully so, that's where the
Dell Streak 5
appears to be headed!
Checking out the product page of the handset on Dell's web site, we're actually greeted with something totally surprising – a goodbye page of all things. Yup, Dell is giving the handset a proper goodbye wave by telling everyone "
it's been a great ride
." Of course, this move makes perfect sense after we saw the handset
unavailable for purchase through Dell since the end of last month
.
source:
Dell
via
Android Central