Dell and Sprint Nextel recognized for green efforts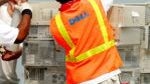 Newsweek
published their 2010 Green Rankings, in which
Dell and
Sprint Nextel
were recognized among the most environmentally conscious companies in America.
Dell
, ranked #1, was recognized for their campaign to reduce its emissions by 40% by 2015. They have also made their devices more efficient, reducing power usage by 25%, and saving their customers $5 billion in energy costs since its implementation.
Newsweek
also commended Dell on their use of over 7.2 million pounds of post-consumer plastic in the construction of their devices.
Perhaps most impressive is Dell's recycling program. Many manufacturers offer to recycle customers' equipment, but Dell takes it a step further: Dell will accept mailed devices for recycling, but will also pick them up from the customers' homes, or retrieve them from their drop boxes at thousands of Staples and Goodwill locations.
Sprint was recognized for being the first U.S. carrier to implement an emission-reducing plan. They are now 3 years into their plan to reduce overall emissions by 15%. Sprint is accomplishing this by making its network infrastructure more efficient, and by employing renewable energy sources like hydrogen fuel cells.
Sprint has also implemented a strong
recycling program
. Their aim is to recycle 99% of their products, and are currently recycling about half. Additionally, Sprint carries two phones made of mostly recyclable materials, the Samsung Restore and Samsung Reclaim.
Don't worry, these rankings weren't torn from
Newsweek
's roster of advertisers. The scores were tabulated with the help of a panel of independent experts, and three environmental organizations: MSCI ESG Research, Trucost, and CorporateRegister.com.
source:
Newsweek
via
Sprint Nextel