Dell Venue Pro gets Mango, completes the set
2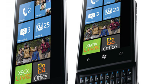 The Dell Venue Pro has finally received the update to Windows Phone Mango, which means that all Windows Phones now have the WP 7.5 update released and available to users.
This is of course the benefit of the tightly controlled Windows Phone ecosystem, much like Apple's iOS ecosystem, where the hardware is all standardized and there is no such thing as customizing the base platform. That kind of control leads to easy and widespread updates. So, when the Dell Venue Pro update to Windows Phone 7.5 (Mango) began rolling out yesterday, that completed the set and Mango is now officially available for all Windows Phone handsets.
Of course, the tight control also means there is no such thing as dual-core CPUs, but as long as the software is optimized properly, it doesn't make too big a difference. The lack of displays above WVGA resolution is a bit more noticeable, but still manageable. As always, there are benefits and tradeoffs to each platform.
source:
Microsoft
via
The Verge