The best unlocked Note 8 deal so far discards the retail box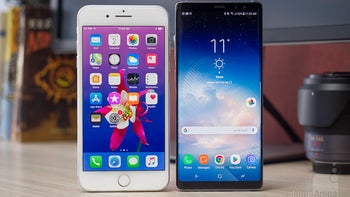 If you don't have the dough to shell out for Samsung's newest
Galaxy S9
and
S9+
, you might want to take a look at the next best thing. No, not their predecessors, but the other high-end Galaxy phone with a dual camera set on the back, the
Note 8
. As a bonus, you will be getting an S Pen stylus and saving quite a lot of money in the process. How come, isn't the Note 8 currently going for $900+ directly from Samsung?
Well, leave it to enterprising eBay seller BuySpry to bring you Samsung goodies cheaper, as, next to slightly discounted
S8
and
S8+
, they are now selling "new condition" Note 8 for the lowest price ever. At $580, we can stomach the lack of a retail box for a Midnight Black editions with 64GB storage which are on top of that unlocked Verizon units, so they will work on each major US carrier but Sprint.
As usual, the batch of those conditioned Note 8 deals is limited, so hit the source if you are interested, just don't forget that it's a big puppy, at a 6.3" diagonal, Infinity Display design or not.