Samsung Galaxy Note 8.0 Review
42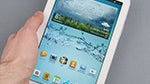 Introduction
Starting out from a weird "phablet" device, Samsung's Note series of smart products have grown to become a complete line-up, which today includes a 5.5" phablet, a 10.1" tablet, and now a smaller, 8" tablet. The
Galaxy Note 8.0
keeps the characteristic feature of the series, namely the S Pen stylus, which seems to be getting more and more capable with each new iteration.
As with the
Note 10.1
, the Note 8.0 will probably have some tough time because its direct competitor is the Apple iPad mini. Apple's smaller tablet is already enjoying some notable demand, which comes to show that there's money to be made in this device category. Another popular device, which is also dangerously close to the Note 8.0 is the
Nexus 7
. Being so aggressively priced, Google's 7" tablet sure is a force to be reckoned with.
With such mighty competitors, it's very interesting to see what the Galaxy Note 8.0 is going to offer. Has Samsung loaded its product with enough features? Will the S Pen play its part and provide the Note 8.0 with some much needed differentiation? Read on to find out!
Design
Surprise is the last thing you can feel upon opening the box of the Samsung Galaxy Note 8.0. The tablet has Samsung's traditional design language, which gives it a kind of a retro look with those rounded corners. This kind of design actually works quite well for the Note 8.0, which doesn't look bad at all.
As always, this Samsung device uses smooth, glossy plastic for its exterior, which we appreciate. It makes the Note 8.0 easy and comfortable to hold.
The Home button
, as well as the ones around the sides of the Galaxy Note 8.0 function very well. Only the power button could have been a bit better, but it's not too bad the way it is.
All in all, we like what Samsung has done with the design of the Note 8.0. The device isn't anything groundbreaking, especially when compared to something like the
iPad mini
, but it's OK and is quite comfortable to use. Thanks to its light weight of 11.92 oz (338 g), it's also easy to hold with just one hand – something very important for an 8" tablet.
Display
The Galaxy Note 8.0 doesn't surprise with some kind of innovative display technology. It simply has a quality
LCD TFT screen
with a resolution of
800 x 1280 pixels
. This makes for a pixel density of 189 ppi, which is certainly not too high, and that's easy to notice when using the tablet. In terms of clarity, the Note 8.0 positions itself below the Nexus 7 but above the iPad mini, which has an even lower pixel density. Anyways, Samsung's newest tablet has just enough resolution to make everything readable without annoying you, but yeah, it won't blow you away with super-sharp visuals.
Viewing angles
are pretty decent, and so is outdoor visibility, as the display is able to get quite bright. At the same time, we're glad to report that it can also get very dark, which is very valuable when using the device in the dark.

S Pen
The signature feature of the Samsung Galaxy Note 8.0 is, of course, the S Pen stylus that can be used for stuff like note-taking and drawing. The stylus itself fits into its silo very tightly, so there's absolutely no chance of it falling by accident. The S Pen is big enough to be comfortable to hold, although it probably would have been even better if it was a tad bigger. Still, it's OK the way it is right now.
As you probably know, Samsung has worked with Wacom, the company that makes professional grade tablets for designers, in order to integrate some of its technology in the Note 8.0. As a result,
the stylus is pressure-sensitive
, and we're more than happy to say that writing with it is actually quite convenient. Sure, most people will probably find it harder to write with the S Pen than with a real pen, but the difference seems to be surprisingly small.
You can learn more about the S Pen and the apps that are optimized for it in the following sections of the review!
Recommended Stories