Deal: You can grab the YotaPhone 2 - the Android phone with two screens - for just $119.99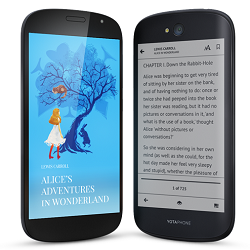 In the world of mobile tech, November is one of the best times to shop for crazy good deals on some of the hottest products that have come out throughout the year. We've constructed a
comprehensive guide
on some of the best deals that have already been announced, but if you're in the market for something a bit more peculiar, a new deal just popped up that could be perfect for you.
This deal has to do with a phone that you can purchase for way under $200, and it's easily one of the most interesting smartphones that's ever been released. The phone is the YotaPhone 2, and you can currently be the owner of it for the low cost of just $119.99. This is a phone that came out back in 2014, so the specifications aren't anything to write home about. We're talking an 8MP rear camera, 2GB of RAM, Snapdragon 801 processor, and a 2500 mAh battery. Those specs might not sound all that impressive, but that's because they aren't supposed to be. The real star of the show here has to do with the YotaPhone 2's display, or rather, the YotaPhone 2's dual displays.
In case you forgot, the YotaPhone 2 has two screens - one on the front and one on the back. The front/primary display is a 5-inch LED panel with a resolution of 1920 x 1080. Flip the phone over though, and there's a secondary 4.7-inch e-ink display with a resolution of 540 x 960. That e-ink display can be used for a number of things, including reading e-books, displaying the current weather, a custom wallpaper, or even the standard Android interface if you want to save some battery. It certainly is one of the most interesting designs we've ever seen, and while a lot of the specs might be outdated, $120 is a great price to pay if you want to own of the most unique smartphones that's ever been released.
The deal is being offered by GearBest.com, and heading to the website will showcase the YotaPhone 2 being sold for $135.99. However, if you enter the coupon code "YOTAPGB", you'll be able to kick that price down to $119.99. This offer will be over in 4 days and there are only 167 units remaining at the time of this writing, so if you're at all interested in this deal, you'll want to act quickly.