Deal: Save $90 when you buy the Amazon Prime Exclusive Moto G5 Plus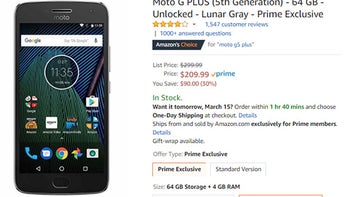 The
Moto G5 Plus
is one of the few mid-range smartphones that will be updated to Android 8.0 Oreo, so if you're looking for such a device but don't want to break the bank, this is surely a great choice.
Amazon is selling the
Moto G5 Plus
in two variations: Prime Exclusive and Standard Version. The former comes with a pre-installed selection of Amazon apps such as Amazon Widget, Prime Music, Prime Photos and many more. That's one of the reasons the Amazon Prime Exclusive is usually cheaper than the standard model.
However, for a limited time, Amazon offers an even better deal on the
Moto G5 Plus
. If you don't mind owning the Amazon Prime Exclusive version, you can now buy one for just $210, so you'll be saving $90.
The unlocked 64GB Amazon Prime Exclusive
Moto G5 Plus comes in two color versions
– Lunar Gray and Fine Gold, but only the former is on sale. The same goes for the 32GB variant that costs just $175, although the smartphone usually sells for $230.