Deal: Apple Powerbeats3 are 50% off at Best Buy, come with 3 free months of Apple Music
1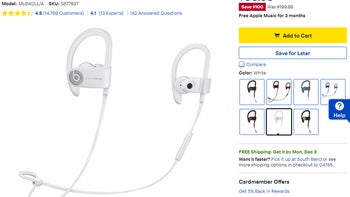 Some of the best earphones launched by Apple, the Powerbeats3 recently received a
major discount at Best Buy
. Not only that, but the U.S. retailer throws in 3 free months of Apple Music if you decide to buy the headphones from its stores.
The Powerbeats3 earphones usually sell for $200, but Best Buy has them on sale for just $100. As mentioned above, you'll also get 3 months of Apple Music at no additional cost when you buy the
Apple Powerbeats3
.
As you might already know, the Apple Powerbeats3 come in multiple color versions, but not all benefit from the $100 discount. If you want to buy them for half off, you'll have to choose the white, black, flash blue, siren red, or shock yellow variants.
If you select the Break Blue version, you won't see the price until you add them in the cart. These specific model is selling for $150, so you'll still get a $50 discount. However, the Powerbeats3 in Defiant Black-Red aren't on sale at all, so you'll have to pay the full $200 price.