Danske Bank customers can now pay bills by photographing them
2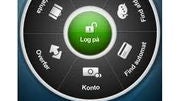 Since nobody really enjoys the tedious process of waiting in line, even if it is for a fancy new gadget like the iPad 2, using online banking to manage your money can be a real time saver. Banks have already started turning to mobile devices in order to make simple banking operations more convenient to their customers – both PayPal and Chase Bank allow money deposits to be made by simply uploading a photo of a check via their respective smartphone apps.
Banks in Europe are surely not falling behind on this trend. Danske Bank is the Danish financial institution, which has been praised by its customers for being a national pioneer in online money transfers. The latest update to its mobile banking application adds the ability for Danske Bank customers to pay their bills "over the air" – taking a photo with the smartphone's camera and letting the app process it is all that it takes.
Even though it has been crafted for Danske Bank's customers in mind, clients of its Danish competitors may also take advantage of the option to pay bills by snapping a picture of them. If you happen to live nearby, feel free to try the app out and to let us know if it works. Danske Bank's application is available for both Android and iOS devices and detailed instructions for usage have been kindly provided on the bank's website.
source:
Springwise
via
TUAW
Recommended Stories