CyanogenMod 9 Music app released early
10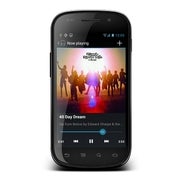 We've seen bits and pieces of the new app builds coming to CyanogenMod 9 recently, and now we've got another one. First, we saw the
Trebuchet launcher
for CM9 hit the Market, and now the CyanogenMod 9 Music app has been released, although it isn't in the Android Market just yet.
We already knew about what to expect from the CM9 Music app because the project was
detailed by developer Andrew Neal
. So, we knew that the new app would have gesture controls, a theme system, custom controls in the notification tray and more, but now we get to actually try it out. The app is definitely quite nice. As expected, it is built to mimic the stock Music app, but with some slight changes and enhancements. The first thing you'll notice is that you get more info on the screen than with the stock app, but fewer options for sorting your music. CM9's Music app has dropped the "Recent", "Songs" and "Genres" tabs that are featured in the stock Music app, but that seems like a nice streamlining choice to us. It is certainly nice to see the lockscreen player controls enabled in CM9's Music app as well.
Overall it's a nice music option, assuming of course you have music on your device. CM9's Music app can't connect to your Google Music cloud storage, so you have to have the songs on your phone. Another odd thing we found was that the menu button on ICS isn't on the main navigation screen, and you have to start playing a song to get the menu button.
If you want to give the new CM9 Music app a shot, just grab it from the
download link
and install it as you would any non-Market app.
source:
Andrew Neal