Consumer Cellular brings free voice transcription to deaf callers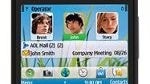 Consumer Cellular, if you're not already familiar with it, is a relatively small nationwide carrier that provides
low-cost service
options and discounts to senior citizens. In keeping with their target demographic, Consumer Cellular is offering a voice-to-text transcription service, called Mobile Captions Service, to deaf and hard-of-hearing customers.
Although
speech-to-text
has made leaps and bounds, it still pales in comparison to a human transcriber. The interface of the Mobile Captions Service is pretty seamless. When you make a call, you connect with a relay service center, where a Communication Assistant then transcribes what the other party is saying onto your screen. The other party will still hear your voice normally. This is a modification of the
home-phone
service, which uses the same real time transcription.
The service is free, where it is available. Oddly enough, the service is only available on the
Nokia E5
, so it does end up costing you if you have to upgrade your handset. Users can also modify the size of the font. Senior citizens, for example, might need a little help on both the audio and visual aspects of their mobile device.
The advent of
text messaging
was great for deaf persons, who could finally communicate without depending on an operator. Mobile Captions Service, on the other hand, seems like less of a revolutionary step. It is still commendable that Consumer Cellular is offering the service for free.
source:
Consumer Cellular
via
Engadget