T-Mobile expands low-income Lifeline services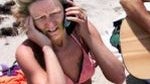 T-Mobile
has expanded their low-cost Lifeline wireless service to Florida. The expansion is part of an effort to receive additional money from the Federal Universal Service Fund, which was established to fund buildout into rural areas.
Lifeline services offer low-cost mobile service to low-income applicants. Lifeline customers will typically pay $6.49 per month for 145 whenever minutes, 500 night minutes, and 500 weekend minutes. The government then compensates the carrier for the additional $13.50 value of the plan. The expectation is that the carrier will use the additional funds to expand their network in a rural area.
T-Mobile's other Lifeline markets include Kentucky, North Carolina, Washington State, and Puerto Rico. Puerto Rico is by far their largest Lifeline market, where they receive between $15 and $20 million every year in government funds. There are currently 618,000 Lifeline recipients in Florida, which works out to a little over $8 million in federal subsidy.
The Universal Service Fund was established in an effort to increase the reach of cell service to underserved
rural communities
. Standard mobile subscribers pay into the fund as part of their monthly bill, and the charge is usually called a "Universal Connectivity Fee".
source:
The Palm Beach Post
via
FierceWireless