Colourform add-on pack for HD Widgets arrives with crazy customization options
2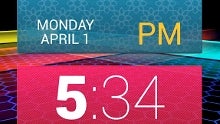 Love them or hate them,
HD Widgets
are consistently at the top of most downloaded Android apps and have been Editor's Choice for a while now. In what is perhaps one of the most significant add-on for the widgets pack, the developer outed Colourform, letting the millions of Android owners who rely on HD Widgets customize the heck out of their appearance.
The pack offers 50+ new widgets tailored in ICS/JB style for Android phones and tablets, but it's the level of detail you can mix and match the widgets with that shoots for the stars with Colourform: "
Everything is colorable: icons, text, separators, background… you can even color each part of the clock! Backgrounds are layered with settings for color, opacity, tiles, and textures - or just do no background at all
." It's tons of fun and costs just 99 cents, but you have to have HD Widgets preinstalled to use Colourform, of course.