Clearer images of the Motorola DROID X appear
This article contains unofficial information.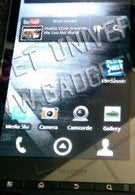 Verizon's two unannounced Android powered Motorola phones have been getting a decent amount of face time of late, but now we're seeing some really decent shots of the
Motorola DROID X
. Even though we've been able to see images of the device, there are still question swirling about its specs – it happens to change each time we see it. Gadget University was able to get the latest round of photos for the Motorola DROID X and they're reporting that the handset packs on a 4.3" display and that "the colors are much better than on the DROID." Now it should be able to take on the same the glorious status that is accompanying the HTC EVO 4G's massive 4.3" touchscreen. Not only are we hearing a noticeable upgrade for its display, but Gadget University also says that the handset is rocking out a 1GHz Snapdragon processor, HDMI out, and an 8-megapixel camera with flash. Based on the leaked image, the handset is running Android
2.1
with an updated version of MOTOBLUR. Verizon is surely keeping quiet on the whole situation which of course keeps on getting more interesting with each passing day.
Motorola DROID Xtreme MB810 Preliminary Specifications
source:
Gadget University
via
Android Central