Chipworks teardown reveals the iPhone SE a fine blend between old and new technology
18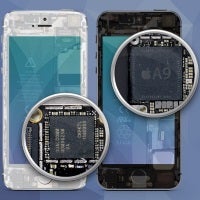 Doing what they do best, the teardown artists at Chipworks have published photos and findings from their iPhone SE disassembly. Digging deep into the Apple 4-incher's internals, Chipworks noted that the iPhone SE is a remarkable balance between old and new technology, and Apple offering the smartphone at such a low cost ($399 for the 16GB base model) is a commendable feat. Then again, the paltry amount of storage featured in the base model is quite the obvious cost-cutting measure. But this doesn't diminish the achievement of packing this much hardware power in a device so tiny, and relatively affordable.
The 4-inch iPhone SE features Apple's latest and greatest A9 chipset, accompanied by a SK Hynix RAM memory module, which Chipworks believes is "likely the same 2 GB LPDDR4 mobile DRAM found in the iPhone 6s. The 16 GB of flash storage is sourced from Toshiba, although it's possible different units feature memory by other suppliers.
Some components date from 2011, while others are seen in an iPhone for the first time.
Travelling a few years back in time to 2011, Apple scavenged the Broadcom BCM5976 and Texas Instruments 343S0645 touch screen controllers that it also uses in the iPhone 5s. However, the NFC chip (NXP 66V10), 6-axis inertial sensor (InvenSense), modem (Qualcomm MDM9625M) and transceiver (WTR1625L RF) are the same parts used in the iPhone 6s. And so are the audio codecs (338S00105 and 338S1285), which Chipworks believes are designed by Texas' Cirrus Logic, a long-time specialist in audio processing chips. Meanwhile, the Skyworks SKY77611 power amplifier module, a TI 338S00170 power management circuit, EPCOS D5255 antenna switch module, and AAC Technologies 0DALM1 microphone are all new parts not seen in an iPhone before.
Chipworks' teardown proves that Apple didn't merely stick an iPhone 6s inside the iPhone 5s' shell, but actually approached its internal design and choice of components with the same scrutiny and attention given to each new iPhone. It also took the opportunity to experiment with never used before technology, giving a tiny peek into what could potentially end up inside the upcoming iPhone 7 and 7 Plus.
source:
Chipworks
Also read: